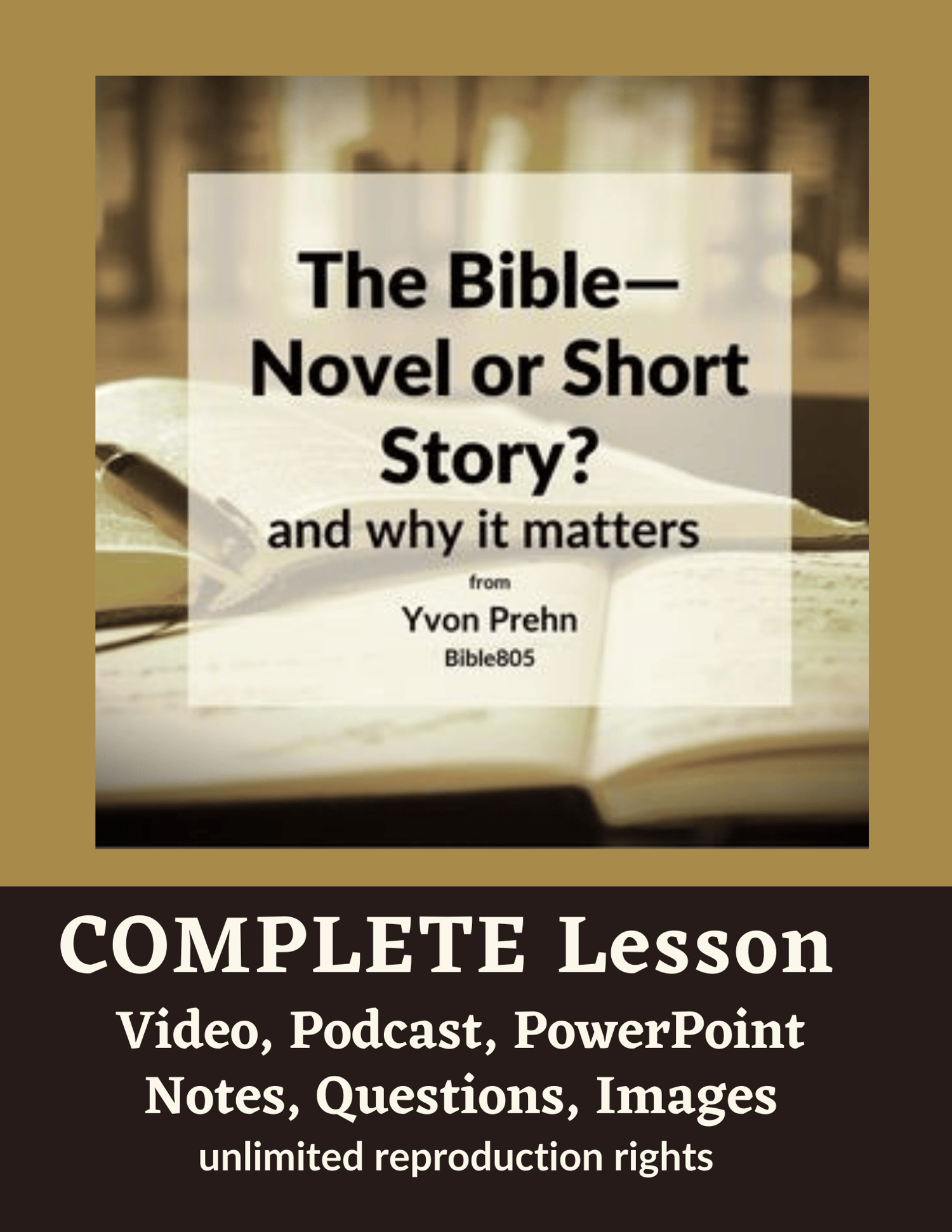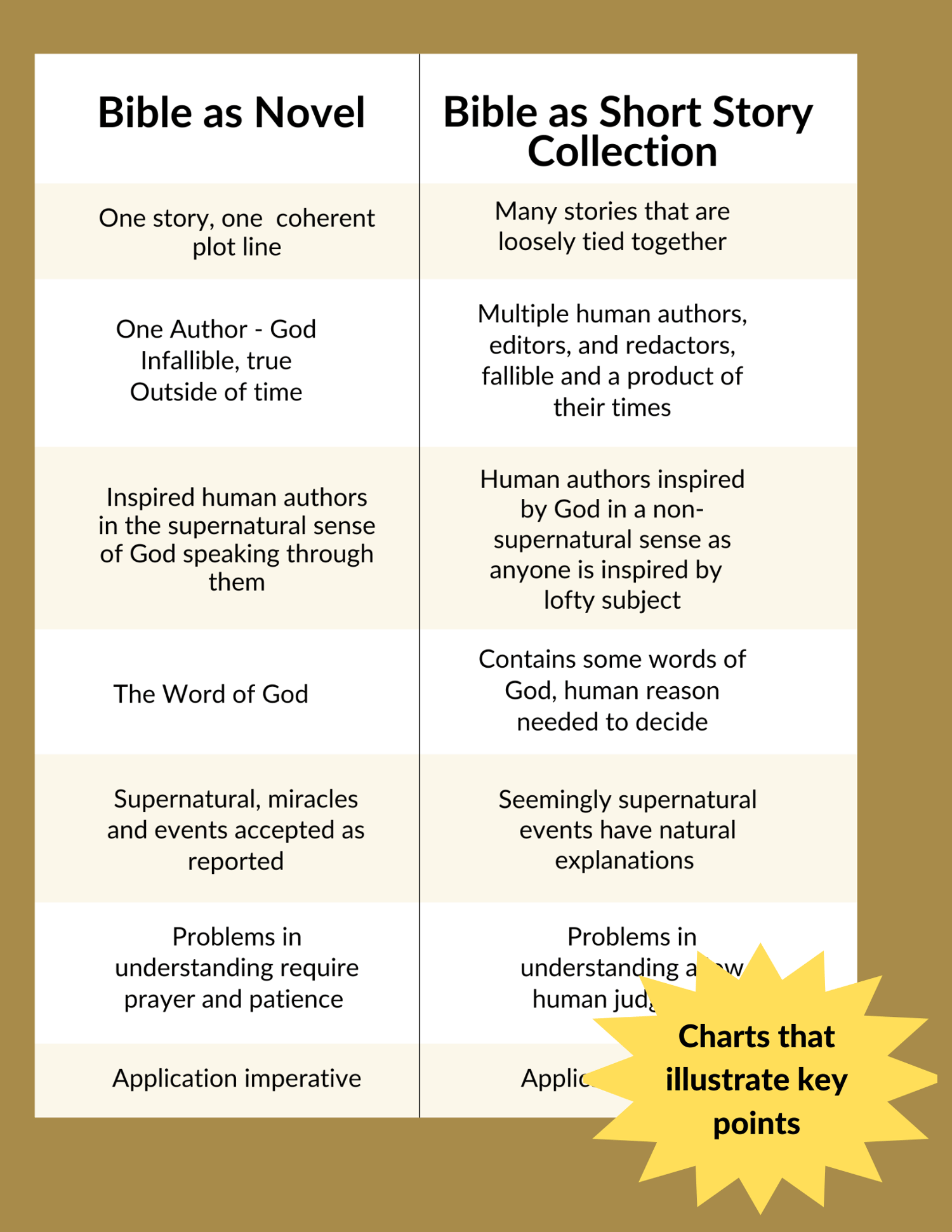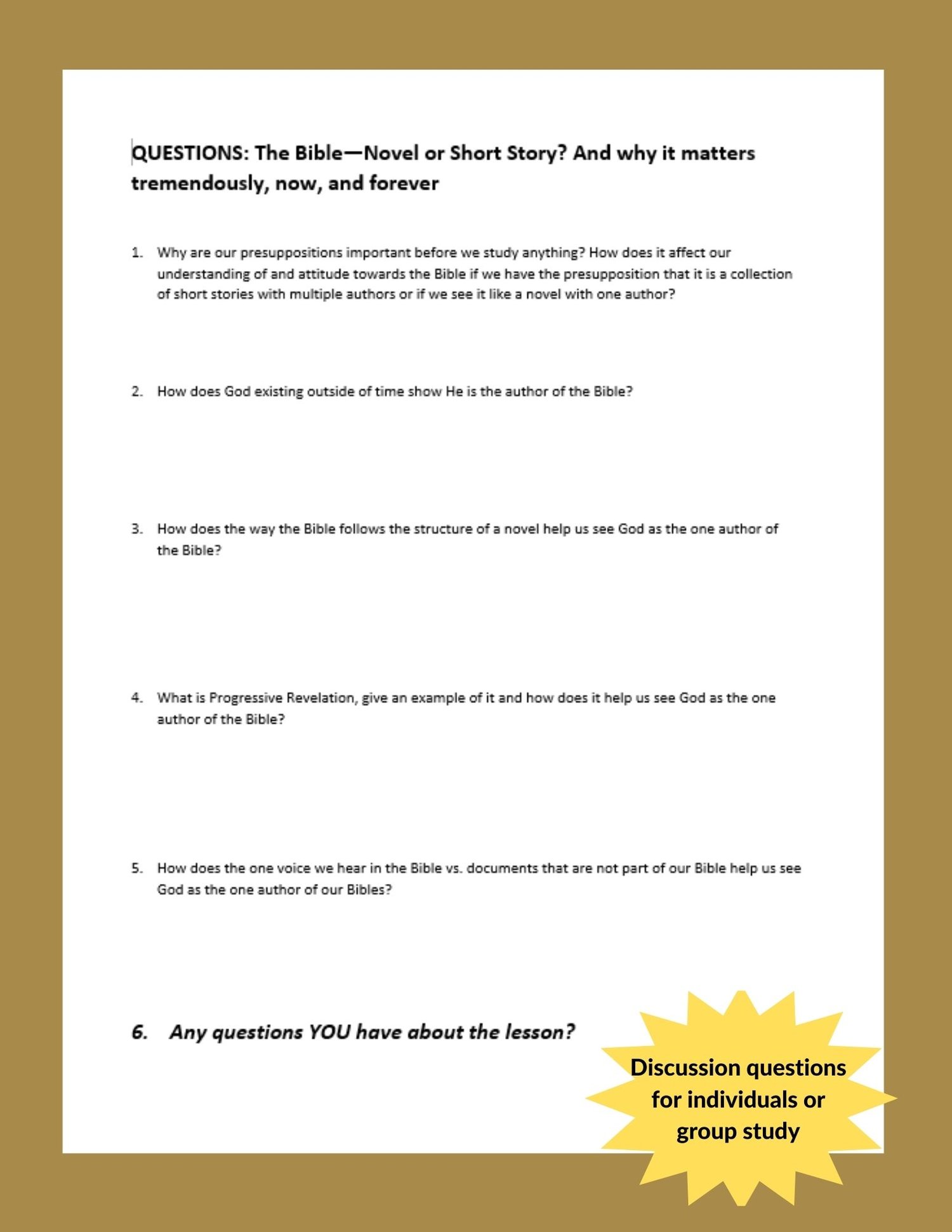 The Bible—Novel or Short Story? and why it matters tremendously, now and forever
You can buy this lesson individually for $2.99, or for $4.99 monthly, or $36 yearly subscription you get this lesson and ALL the currently available lesson modules and those continuously added. Click the following link to find out more or to sign up: CLICK HERE 
---
About this Lesson
To convince you that the Bible is indeed the very words of God given to us for our eternal salvation and how to live our earthly lives is the purpose of this lesson. We begin by talking about the importance of our presuppositions when we approach the Bible and then we go into these four areas:
#1 Evidence for God as the One Author of the entire book, emphasizing his view outside of time#2 The unity of the plot of the entire book follows the traditional structure of a novel of Exposition, Rising Action, Climax, Falling Action, and Denouement#3 The use of Progressive Revelation in the entire book#4 The voice of the One Author in the entire book
This lesson is a little longer and more complex than some, but the issues discussed in it are tremendously important, worth your time, and foundational to your understanding of the Bible and your confidence that God is the ONE author of it.
When you see the Bible as one book by one author, our Sovereign God, it can make a tremendous difference not only in how you read it but in many ways and more importantly how you respond to it.
In contrast to seeing the Bible as one book by one author, if we believe the Bible is the creation of human authors, what I call the "short story view of the Bible," though we feel it might have some inspiring and morally valid advice, it is our choice as a fellow human to pick and choose what we believe or obey.
If on the other hand, we truly believe the Bible is written by God Himself, our Creator and the One to whom we will one day give account, in what I refer to as the "Novel view of the Bible" above all else we should work to understand and obey it.
This lesson will give you the confidence to do that.
Included in this Lesson
An 1080p video
An MP3 audio file
PowerPoint file of the lesson
A PDF of Notes/Transcript of the lesson
A PDF of Questions on the lesson for individual study or group discussion
Two digital files of images and PR text you can use to promote the topic
Unlimited reproduction rights of the video and handouts within your church, group, ministry, or business.
REMINDER
You can buy this lesson individually for $2.99, or for $4.99 monthly, or $36 yearly subscription you get this lesson and ALL the currently available lesson modules and those continuously added. Click the following link to find out more or to sign up: CLICK HERE