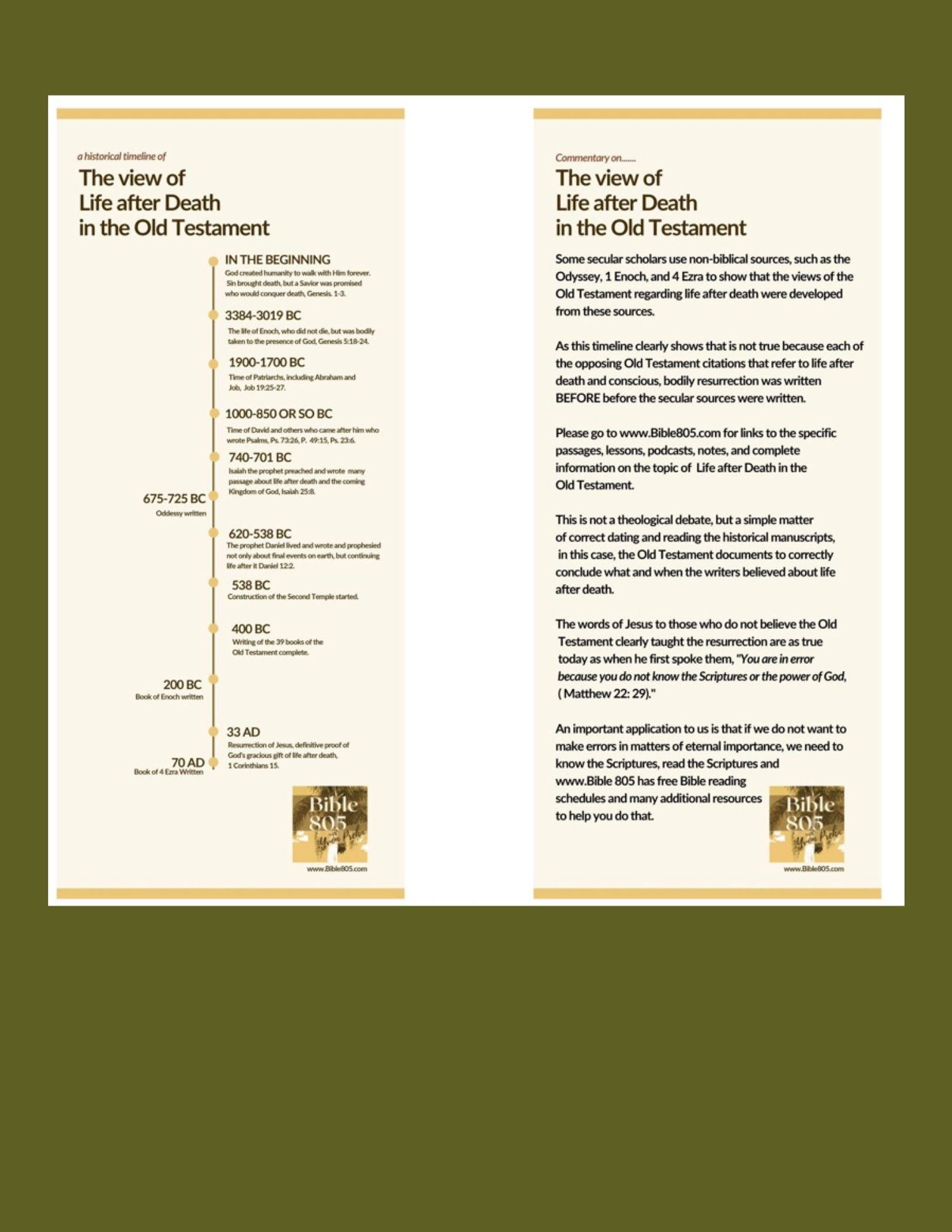 A Critique of Scholars who Don't Believe in Life After Death
You can buy this lesson individually for $2.99, or for $4.99 monthly, or $36 yearly subscription you get this lesson and ALL the currently available lesson modules and those continuously added. Click the following link to find out more or to sign up: CLICK HERE 
---
About this  Lesson        
In the lesson, Life after Death, what does the Bible really teach about it? I demonstrated that the assurance of life after death is clearly taught in the Old Testament.
I also acknowledged that some scholars do not believe the Old Testament teaches Life after Death and because this is so wrong, but often repeated, I wanted to pull out a summary of that incorrect belief and refute it. That is what this lesson is about.
The lesson starts by showing how critics of the Bible erroneously state that God did not reveal the existence of an afterlife in the Old Testament; instead, the Jewish people slowly invented it over time. That is totally false, as the lesson clearly demonstrates.
They also state that this idea developed on the basis of interaction with Greek thought (e.g. the Odyssey) and with later writings such as the book of Enoch and 4 Ezra.
I will quote their words and then show they are incorrect through a TIMELINE including QUOTATIONS OF WRITINGS from the Old Testament on the timeline that clearly show the Old Testament DOES affirm a view of life after death long before the Odyssey and other supposed resources were written. I put all this together in a chart you can download. 
You do not have to believe the Bible is divinely inspired, you don't have to believe God can do this, but you cannot deny the clear, written, historically verified documentation of the belief from the earliest days of the Bible in a clear, fully alive, bodily view of life after death. To say this belief developed by being influenced by writings hundreds of years later is simply bad historical writing. 
This lesson will show you a clear historical timeline and why, based on simple history, the views of the critics are false. God's intention from the creation has been to walk with His people forever. It is a foundational truth we can rest in and this lesson will give you confidence in that reality.  
Included with this Lesson package
An 1080p video
The PowerPoint file of the lesson
A PDF of Notes/Transcript of the lesson
A PDF of Questions on the lesson for individual study or group discussion
Two digital files of images you can use to promote the topic
Unlimited reproduction rights of the video and handouts within your church, group, ministry, or business.
REMINDER
You can buy this lesson individually for $2.99, or for $4.99 monthly, or $36 yearly subscription you get this lesson and ALL the currently available lesson modules and those continuously added. Click the following link to find out more or to sign up: CLICK HERE
In the files below:
The MP4 file has the video—the name may be a bit odd as the program I'm using automatically sometimes gives it a new name when I save it.
The ZIP file has the PDFs of notes and question pages, plus the image files.